BOTOX® Injections vs. Dermal Fillers: Wrinkle Reduction Options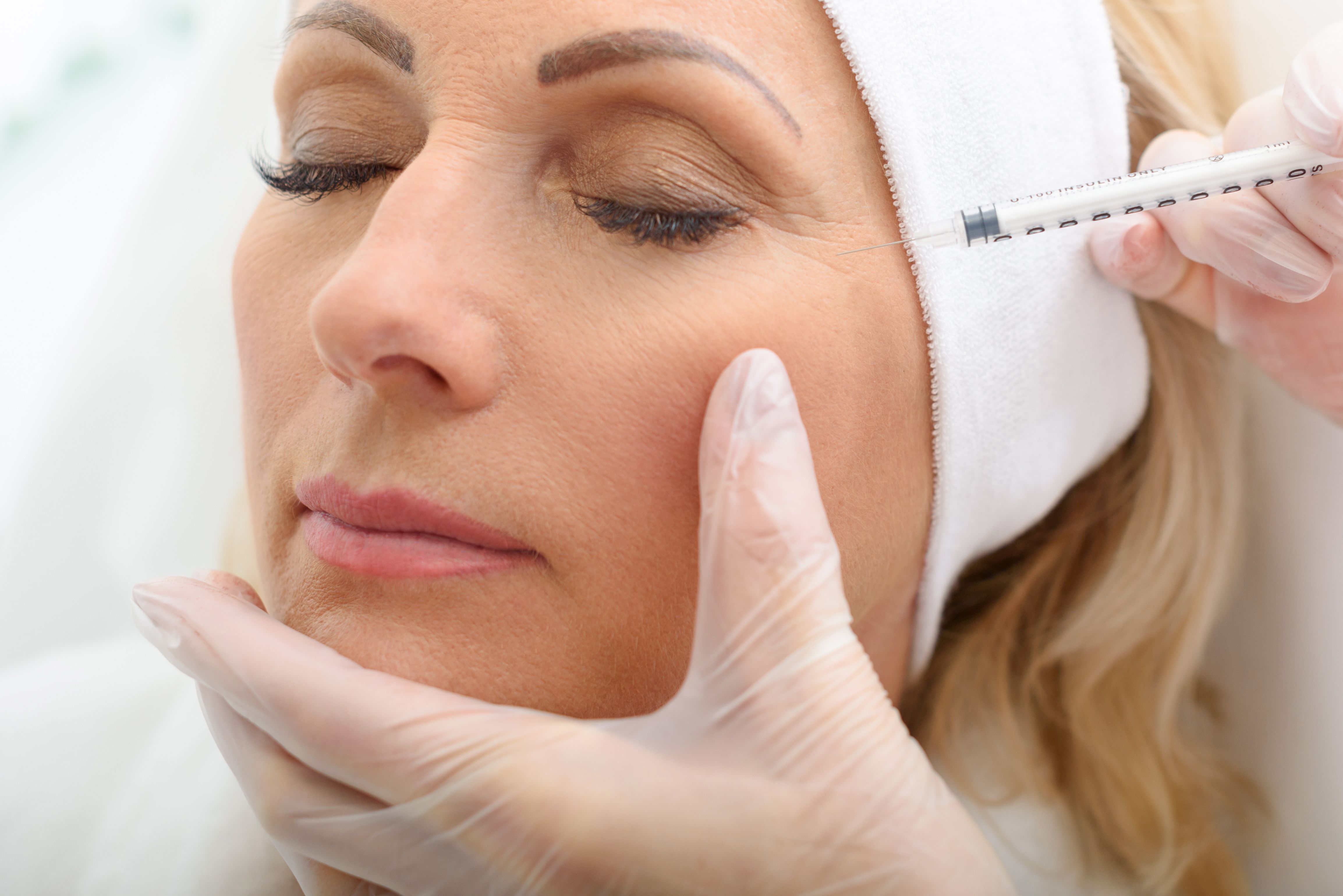 More people are turning to cosmetic dermatology and advanced skin care treatments to reduce wrinkles and look their best. These non-surgical rejuvenation options have many advantages over facial plastic surgery, and Dr. William Baugh will be more than happy to discuss what treatments may be right for you during a consultation at our Fullerton, CA office.
Dermal fillers and BOTOX® injections are popular anti-aging treatments, with more than 9.2 million combined injection treatments performed in 2017 alone. The Full Spectrum Dermatology team would like to compare these types of injectables and which may be more ideal for you.
About BOTOX® Injections
BOTOX® injections are an extremely popular option for non-surgical wrinkle reduction. According to the American Society of Plastic Surgeons (ASPS), there were 7.2 million BOTOX® injections performed in the United States in 2017.
BOTOX® injections work by halting muscle contractions at the injection site. By doing this, wrinkles around those areas are no longer visible. The skin smooths out and patients look more refreshed and relaxed.
Wrinkles BOTOX® Injections Can Treat
BOTOX® injections are great for treating dynamics wrinkles, which are wrinkles that show up when making certain facial expressions. This includes:
Frown lines
Brow lines
Crow's feet
Laugh lines
How Long Do BOTOX® Injections Last?
The exact duration of BOTOX® injection results can vary from patient to patient. On average, patients should see anti-aging results last for about six months. After the effects of the initial BOTOX® cosmetic treatment have worn off, a repeat session can be performed to prolong the results.
About Dermal Fillers
Dermal fillers are another type of non-surgical anti-aging treatment that is quite popular. ASPS numbers found that almost 2.7 million dermal filler treatments were performed in the United States.
Dermal fillers are a whole family of different substances that are injected to add volume and smooth away wrinkles. Collagen is one of the more well-known dermal fillers, though the most popular dermal fillers contain hyaluronic acid. These hyaluronic acid fillers include Restylane®, Perlane®, and JUVÉDERM®.
Wrinkles Dermal Fillers Can Treat
Dermal fillers are best for treating various issues that involve reduced facial volume. This includes treating static wrinkles, which are wrinkles that are visible when the face is at rest; this includes marionette lines, nasolabial folds, and deep lines on the forehead. Dermal fillers can also help fill acne scars and enhance the prominence of the lips and cheeks.
Some advanced dermal fillers are specially formulated for specific cosmetic issues. Sculptra®, for instance, is able to address the loss of facial fat associated with HIV/AIDS.
How Long Do Dermal Fillers Last?
The duration of dermal filler results can vary from filler to filler. Generally, most collagen-based and hyaluronic acid-based dermal fillers last for about six or so months. Repeat treatments can be performed to prolong the cosmetic benefits. Specially formulated fillers like Sculptra® may have results that last for a year or two years.
Your cosmetic specialist can help you understand the nature of the results and how long they will last as part of the consultation process.
Combining Dermal Fillers and BOTOX® Injections
It's possible to combine BOTOX® injections and dermal fillers to achieve a comprehensive anti-aging makeover. Both fillers combined are helpful for treating vertical lip lines (smoker's lines), for instance.
Contact Full Spectrum Dermatology
If you would like more information about cosmetic injectables and how they can benefit you, be sure to contact our team of skin care and anti-aging specialists. We are here to answer your questions and determine the ideal treatment options for your needs. You can also call Full Spectrum Dermatology in Fullerton at (714) 879-4312.
Related to This